Bathroom Window Treatments
Posted by Window Blind Outlet on
When it comes time to change out window treatments, many people focus on common areas- living room, dining room, kitchen. But many people overlook the bathroom. We're here to help you find the perfect window covering to complement your bathroom. Key factors to keep in mind are light control, insulation, and of course privacy!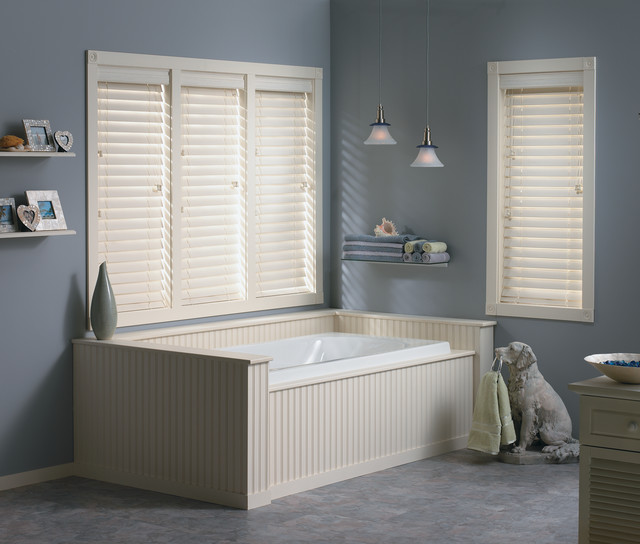 Faux wood blinds provide the warmth of a real wood look with no worries about warping in high humidity or sun. Faux wood blinds are made from a PVC plastic material, making them moisture-proof, which means that the slats will stay straight, no matter how much steam your hot shower produces.
Cellular shades are an ideal window covering for bathrooms. They provide plenty of privacy while also letting in natural light. Consider a Top Down Bottom Up shade for even more light control, as the top can come down to give you a healthy glow of light while still providing substantial privacy. Cellular shades also provide an extra layer of insulation, so getting in and out of the tub isn't quite so brisk on those cold winter mornings.
Bamboo shades are made from sustainable materials to give your bathroom a relaxing and inviting feel while still providing privacy. If you're looking to make your bathroom feel more like an in-home spa, bamboo shades are a great idea.
Key things to remember when shopping for bathroom window treatments
-High humidity can be a factor, so get something that will hold up
-Make sure you have full coverage on the bottom floor. Don't let neighbors peer down in!
-Make blind wipe down part of your cleaning routine every few months to keep mildew at bay and preserve the life of your blinds
---